C
i
r
q
u
e
d
u
S
o
u
l
b
l
i
g
h
t
e
r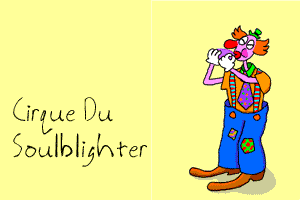 Pop that balloon animal and I'll break your face, kid.
How does one write a biography of a team whose members drifted together like a bunch of loose Cheerios in a bowl of milk? Answer: very carelessly and very briefly.

Recipe for Cirque du Soulblighter Souffle:

The starter yeast of the Cirque dough is made up of the Ginslingers, who were the MWC2k runners up. Many of Gin's key players had burned out on all things Myth during the Hundred Years Tourney, a.k.a. "TBT", so the talentless ones remaining decided to chuck their small posse for a rollicking, full-sized squad. Former Ginslingers include M0bitz, PoohBear, Moliere, Stinger, and Benwillies.

The next ingredient to add were those players in the Fellowship of Stoneheim who would have been Ginslingers had we originally opted to keep the roster bigger than 9. These long-time practice chums jumped at the chance to join a serious effort at some Myth fun. Add one heaping helping of Stoneheimers: Berk, Nico, Orca, Ballistik, Temuut, and Arikay.

The last ingredient to le Cirque Souffle were unranked players from all corners of the Myth world whom we've known and played with for years. Sir Parson, Balefire, Morpheus, Jeff, and Mazrim bring formidable tourney experience and chocolatey Myth flavor to the dish.

Pour into a pan and place over a warm flaming forum. Test for doneness with a wight dagger. Serves 71 teams.


Threat Assessment:
Though possibly not quite as solid a team as the Ginslingers of MWC2k, CiRQUE is still not a team you want to be sitting across from. They've retained a number of their key players, and added in some new blood in Balefire and Morpheus.

It remains to be seen how some of the less competitive players on this team will fare, but our guess is that they'll get into the thick of things pretty quickly. Expect CiRQUE to be one of the last teams standing - and who knows, even a run to the championship is a good possibility.

Update (QR5): After an easy and impressive run through the QR we find it ridiculous not to grant CiRQUE the likelihood of a deep DE run.
Update DE2: Cirque hasn't been truly challenged yet in the DE with a forfiet and an easy win over a mediocre kuk. They will finally be facing some competition with the underdog team Iron Chief. If they are able to dominate, they stand a very good chance of beating NP/s8 and advancing very deep in mwc, but if they struggle here...
Update DE3: And struggle they did, further proving that Cirque is not the same team as last year's Gunslingers. Their skill level just isn't the same, and are more likely to be outplayed than a team like NP or >:(, or in this case, IC. Now in the bottom bracket, cirque looks far less likely to be cup contenders. They are a good team and will go down with a fight, as they did with IC, just don't expect miracles.
This team has received 980 top ten "votes".