Cloudspine Militia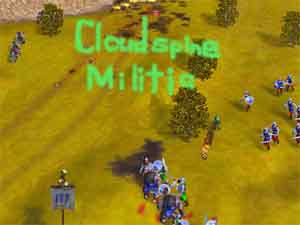 We came back from the Cloudspine, to go to the mwc, beware of Stevens
Well it starts when Stevens, the great leader uses this clan to train newbies. Like when he did on WHO! WHO! was a myth tfl team that was also used to train newbies. We joined this tournement called The Raid Parade tfl tournement. In the first round( which was a pool) we started out with our record being 20-1. Then in the second round (which was also a pool) we were undefeated in that round.
Then we were in the quarter finals, we won 2-1, which I dont remember who we played ,then when we played in semi final we won 5-0. Then in the finla, we lost 4-3, against a clan called PoRN. Stevens comes back to get his revenge.
Threat Assessment:
Yet another team we're not quite sure what to think of. Their roster size would lead one to believe an early exit is in the cards; however, small teams have surprised in the QR before. Look for an update after the first week of play.

QR1: CM's small roster proves to be their downfall against CiRQUE. CM fields 2-3 players against a full team of 7 monster CiRQUE players. The result is not pretty. Unless they can get more players to show, they aren't expected to do much better against Team Orleans.
Update DE2: CM was not able to field many players throughout MWC. In QR they didnt play that well vs larger membered teams, but they still earned a spot in the DE due to 64 of 67 teams advancing. Once in the DE they faced a explosive MoR unit. MoR disposed of them and sent them to the bottom bracket. Once there they faced a KoC team. Cm played well, but once again were hurt by low turnouts and got eliminated from MWC. Cm had a enjoyable time and we wish them gl in the future.
This team has received 108 top ten "votes".