Iron Chef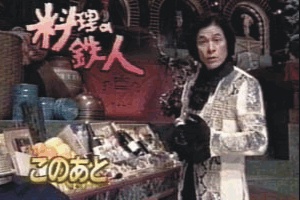 Yomigaru,
Iron Chef!!!
Watakushi no kioku ga tashika naraba...

we really dont care anymore, de4 is over and we had 4 show up.

half our players are at college or on vacation, the other half are very sick of playing m2.

hf everyone, and gl in mwc, we had fun.
Threat Assessment:
This strikes us as another fake-name entry, and one that may prove to be dangerous. The QR will determine if these guys are iron chefs or spam masters.

Update (QR2): We'll be the first to admit it - we didn't think IC had a snowball's chance in hell of getting far in this tournament. We're allowed to be wrong.
Many thought that their victory over Cacra was a fluke, and more due to Cacra's in-fighting than anything else. Again, the masses were wrong, as IC proved this week against Monkey Island. The underdogs Chefs turned around and quite handily outplayed the high-rated mi, and if they keep up their streak and take down Ancrik, they might be due for a Trow upgrade.

Update(QR5): After defeating everyone in their bracket, and being awarded the the Team of the QR title, IC have more than earned a fourth trow.
Update DE2: IC continues their impressive play through the DE bracket. They soundly defeated TCO in DE1. Once in DE2 they faced a challenge, BoB. They confronted that challenge and outplayed BoB on all five games. Now they move onto DE3 and competition gets harder. They will most likely face a Cirque squad that is close to flawless. This will be one of the best DE3 matchups and will be interesting to see if IC can withstand Cirques power.
Update DE3: IC has played the best of any of the unknown teams in MWC. IC stepped it up big in DE3 vs a outstanding Cirque team. IC will once again be faced against a tough opponent, Np. Lets see if IC's run can continue in the top bracket.
Update DE4: Well, ouch. IC can only manage a small team against Np, one of this tourney's heavyweights, and the results are not pretty. This week they'll come face to face with Cirque du Soulblighter, a strong team that IC sent to the bottom bracket last week. Cirque will be back and looking for blood, and IC will need to be better prepared this week to stay afloat.
This team has received 174 top ten "votes".