Team Orleans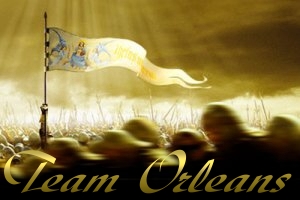 We fight with faith, We fight with strength, We fight for Orleans
Who are we? Some people would call us a rabble and most of us have wandered through the deserts of the Myth community for quite a while. We are from all walks of life and many different cultures. As Myth players we have many different tastes and many different specialties. However, the one thing we all have in common is that at some point or another we all wandered into a game named Orleans and found ourselves feeling at home. I created Orleans out of the mists of Bungie net and I am her creator and host. Orleans has traditionally been a place open to everyone and like the host itself our team was intended to give people a chance to be involved in a tournament that were not involved in an order or people belonging to orders who were no longer active.

Since Orleans is my own creation, I tend to be rather particular about the direction it takes. In my view the core of the Orleans philosophy is belief. The power of belief can change everything. If you believe that you can accomplish something you can accomplish it. If you believe that you can not do something you most likely can not. This is the power of faith in oneself and faith in others. We have come together to form not only a team but a band of friends who share our faith in one another as people. This is why to many of us Orleans is more than a game, its our home where we grow and develop as individuals and share ideas and draw inspiration for our various talents. To encourage and inspire another person has rewards beyond the ability to express them in mere words and every positive action is repaid in kind. This is why to some outsiders we may appear rather defensive, it is because to us Orleans is our home, and we will fight to defend her with every ounce of strength we possess. So who are we? We are who we believe we can be.
Threat Assessment:
It's hard to tell how Team Orleans will fare in MWC. In NML2, osw proved that teams made entirely from rabble can still place respectably, but the difference between osw and Orleans is all in the roster. Orleans doesn't seem to be sporting many strong players; most are mediocre at best. If they can get their way through the QR, they might be able to make a run to DE3, but it seems unlikely.

QR1: Team Orleans not surprisingly defeats df. Their next match against CM is likely to be a rerun of this week's match.
Update DE2: TO started their QR 3-0, but then ended the QR with two straight losses, and ending the QR 3-0-2, and earning a 30th seed in the DE. In DE1 TO faced the same team they lost to in week 5 of the QR, qp. This time however, TO would get the advantage and earn a close victory and advance in the top bracket. The win however was short lived. In DE2 they faced a deadly ei team. ei made TO's mistakes pay and knocked TO down to the Winnowing Bracket. TO has the chance to make a ruckus, but dont expect them to contend for the cup.
This team has received 64 top ten "votes".