The Cagey Inquisition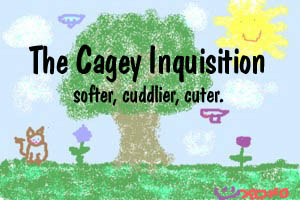 lol. not so lame anymore
Sunshine, lollipops, and rainbows
Everything that's wonderful is what I feel when we're together
Brighter than a lucky penny
When you're near the rain goes, disappears, and I feel fine
Just to know that you are mine

My life is sunshine, lollipops, and rainbows
That's how this refrain goes
So come on and join in, everybody
Sunshine, lollipops, and rainbows
Everything that's wonderful is sure to come your way
When you're in love to stay

Have an awesome day guys :)
Threat Assessment:
CI isn't a threat :)

CI just wants to be loved :)

Is that so wrong? :)

Update (QR5): The Cagey Inquisition was looking unbeatable until their matchup with the Greek Gods, who beat them 32-30. CI is going to need to pick it up to earn another shield or a shot at an MWC championship.

Update DE2: Ci earned a forfiet in DE1 vs PBH and moved onto DE2 to face OMAG. Ci stumbled in game 1, but then turned up the pressure and defeated them soundly in the final 4 games. Up next for Ci: Aesir. This matchup will mean alot to both teams and will decide the fate for one of them. Lets see who steps up and continues on in the top bracket.

Update DE3: Ci snuck by Aesir on a technicallity. Ci now will play a veteran MoR team in DE4. Lets see if Ci's luck will continue in the top bracket.

THE REAL Update DE 3:
Ci wants to be loved :)
Ditty wants to hate :(
MoR will love :)
ci will love :)
There will be love in DE 4 :)
Update DE4: The real meat of CI's MWC schedule reared its head in DE4 in the form of MoR, and CI managed to come out on top with a strong showing. This week will be every bit as difficult as they are forced to go up against Angry Face, one of the tournament's biggest powerhouses.
This team has received 735 top ten "votes".