Greek Gods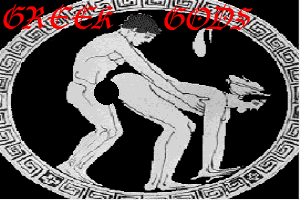 NOOOOOOOOOOOOOOOOMAAAAAAAAAAAAAAD
See if we care.
Threat Assessment:
Rumored to be Knights of the Apocolypse, if this holds true they are a very capable if not dangerous squad. This has been shown with several surprising upsets in The Blood Tournament. They will probably manage around DE3 or even DE4 if they really dedicate themselves.

Update QR3: DE3 and DE4 aren't just possible anymore for GG - they're almost assured. GG was the only team in the Morningwood bracket to defeat pool leader <a href="http://www.mythwolfage.com/mwc/team.cgi?team=CI">CI</a>, and almost stole first place in the bracket away from the Inquisition. Yet another potential powerhouse; except GG to be around for a while. Upgraded to 4 trow.
Update DE2: These nutjobs are looking stronger as the weeks go on. They finally have full 7 man teams showing up and have the teamwork and strategy to be a real contender. They will have to work very hard, but they have a very good shot at beating MoR.
Update DE3: GG was dominated by MoR last week and got sent to the bottom rather viciously. Once their they played the cinderella MoL team in their first Winnowing match. GG played well and earned a right to move on and play tencrik tomorrow. If GG can play godlike, expect them to make a run.
This team has received 131 top ten "votes".