Legacy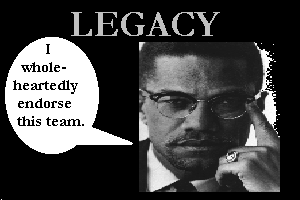 Lg OwNz j00
Legacy has played, as a group, since TFL. As a clan we have played in MWC2000, Desert Fox, m2sbr, and other less notable tournies (and many of us have MWC99 experience as well). We have picked up new members along the way, and lost some, but as a team we are alot better then we ever have been before. MOST IMPORTANTLY, Legacy is the ONLY MWC 2001 team to be officially supported by the Nation of Islam. Hail Allah!
Threat Assessment:
We're tempted to name Legacy as another team highly unlikely to impress anyone after the QR.

Prove us wrong, boys.

Update QR3: Well, they aren't turning a whole lot of heads, but they are certainly doing better than a 2 trow team. I think they are due for an upgrade.
This team has received 34 top ten "votes".