Mercenaries of Light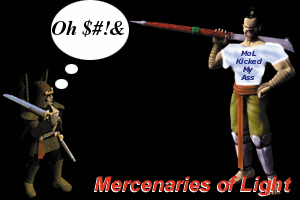 13 Tr0 Ranking... Gg Np.
The Mercenaries of Light was founded in late 1999 with the idea that an order could be based on fun, yet be made up of skilled players at the same time.

We grew quickly, our history being marked by both the good times, and the bad, but each experience made us stronger. Our roster has changed a bit over the months of our existance, but we've always found a number of loyal members who help to keep at least some spaces in our roster nearly permanent.

While we mostly enjoy large team games in unranked, we also can be found playing ffa games quite often, and a number of our members are still very big on ranked play.

Don't let our priorities fool you though =) Despite the fact that we are out to have a good time, we're here to win just as much. Many of our members have competed in several Myth World Cups already, as well as several other major Myth 2 tournaments. MoL has had high-ranking members in the order, including celests and other high ranking members of the Myth 2 community.

Now in our second year of existance, MoL is comprised of two seperate rosters of well over 30 members. We have good friends in a number of well known Myth 2 orders, and our large-scale unranked games usually draw in a decent sized crowd.

Though our roster is different from last year's MWC, we still have several returning players from those times that definitely understand what this tournament is all about. We may never get great TA's initially, but we usually manage to prove them wrong and surprise a lot of people.

In closing, I'd just like to say MWC is a tournament, and its supossed to be a good time - don't let the competition or friction between orders ruin your experience in this tournament. MoL is here to have a great time, but we are hear to win, and we expect nothing less than victory.


-Total Codex, MoL founder
Threat Assessment:
The majority of these players are relative unknowns, the team a relative vapor.

MoL is likely to progress beyond the QR, but that's probably it.
Update DE2: So far MoL's play has been marred by sloppiness and lack of organization, which is to be expected of a team of unknowns. We doubt they will advance past DE 3.
Update DE3: MoL had a great weekend, probably their best in history, upsetting both TO and MCC. Next up for MoL though is GG, dont expect their excellent weekend to become a trend. At least MoL played well in DE, btw MoL is the lowest seeded team left in MWC.
Update 4E: MoL's run has ended by their defeat to GG this past weekend. MoL played well and surprised alot of teams along the way. Expect MoL's next tournament experience to be a better one.
This team has received 51 top ten "votes".