Evil Inc.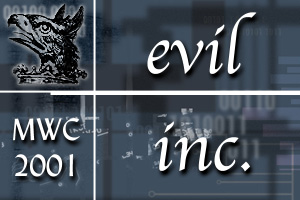 We're obscene, and our bios own yours
<a href=http://blue.evilorder.net/mwc/ei_vs_bastard.mov>Week One video here</a>
<a href=http://blue.evilorder.net/mwc/kozak.mov>DE Week One video here</a>
Here's when we like to play:

Monday - Thursday 9 PM CST
Saturday 3 PM CST
Sunday 3 PM CST
Sunday 9 PM CST

If you can accommodate any of these times we will have bl00's mother, err... girlfriend, Tracy, pay each member of your team a special visit.*

Download "Sodomy in the Wabe" and get your fill of worthless jargon at <a href=http://www.evilorder.net>www.evilorder.net</a>
// Hyperion

*some restrictions apply.
Threat Assessment:
Evil Inc. is straight from the old school, which is good if the players still play.

To counter the effects of hanging up the mouse e.i has picked up Silver Dragon, LimpBizquik, and Broken Cow.

With a lineup including the agressive abilities of Ashen and Voodoo, the patience of Blue, and the "new school" instincts of SD, e.i should be formidable.

Recent history tells us otherwise.

Based on a stronger MWC2K team and a recent tournament failure we cannot with good conscience consider e.i more than a darkhorse for the cup.

Update (QR5): While we're going to keep e.i at a 4 shield rating for the time being, they have proved they can play. This may be the strongest Evil Inc. tourney team in a long time.

Update DE2: e.i are just making an illusion that they are a solid team, but we know better because they are the second worst team on myth (beaten out by mui). Nevertheless the illusion will likely continue to prevail over LoA in DE3. Hell, the illusion may even continue to prevail over hard competition later on, but don't be fooled. God help us all.

Update DE3: See, it was all an illusion. E.i suffered a serious upset with their loss to LoA meaning the curse of DE3 has made e.i it's bitch for the third time in a row. A cup run is unlikely now, but like in the previous years, e.i will push a few rounds into the bottom bracket before getting the snot beaten out of them like a nerdy toddler at pre-school. Still a moderately threatening team, but they are just a wild card from this point on.

Update DE3: ei once again stunning beginning but a woeful end. ei lost to A in their first bottom bracket match and ei has been knocked out of the tourney. Too bad for ei they peaked at the wrong time.
This team has received 486 top ten "votes".