Legion of the Avatara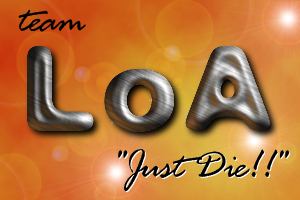 We rule...simple as that!
<font size="3">LoA</font> was created on November 11, 1999. With new members trickling in, we formed a solid team of friends. LoA was ready for the first tourney that headed its way.

LoA entered MWC2K and we were satisfied with our DE3 performance but we left hungry for more. We eagerly entered NML2 and in the regular season we went 14-7, making the playoffs. In the later part of 2000, STRIKE, along with some LoA help, hosted the CoM tournament. Unfortunatly our performance was lacking in CoM. Luckily we got back up on our feet when we were chosen for the Blood Tournament as one of the elite 16 teams. We managed 13th and we had some very close matches against some tough teams but we narrowly missed the next round.

Along this road we've had loads of fun participating in tournaments and having fun on bungie.net. Some other mentionables include Willis hosting the fun and successful TBD tournies and d*WAR*f's trips to the finals in many FFA tournaments...and cows.

We wish all MWC teams good luck, and we hope to have fun and do well.

<center><A HREF='http://loavatara.n3.net' ><font size=3>Legion of the Avatara</A></center></font>

<font color="#345345" size=6>Game Over. :(??</font>
Threat Assessment:
Though the legion has only been marginally successful in tournaments, they have participated in quite a few. That will prove to be a big advantage and will probably carry them out of the QR.
Update DE2: LoA having a surpurb MWC so far. Their QR they only had one blemish, going 4-0-1 while only losing to gtm. In DE1 they faced a descent MoL team. LoA ended up beating MoL and advancing into DE2. Once in DE2 however they faced a much stronger WP team. LoA though, played well as a team and emerged victorious, upsetting the higher seeded team. LoA has gotten to the DE3 for the first time ever and has surprised alot of people. Lets see how much farther LoA can go versus the tougher MWC teams.
Update DE3: LoA continue to prove that they are an underrated team. Back in tbt they were eliminated by evil inc, and now they came back for a rematch with a vengence or something. A sparkling 5-0 win over e.i should get LoA some well deserved attention. Don't expect to beat this team by just showing up. Still, they aren't a team that will inspire fear, nor will their skills and teamwork allow them to challenge the best for the finals. But you can definitely expect to see them in the top ten.
Update DE4: LoA's reign of terror ended with a loss to gtm this week, and their streak of upsets is going to have to continue in the bottom bracket to keep them afloat. They're still looking at a rigorous schedule, with both Cacra and Monkey Island or Triple Nipple on the agenda for this week.
This team has received 113 top ten "votes".