The Fallen Bishops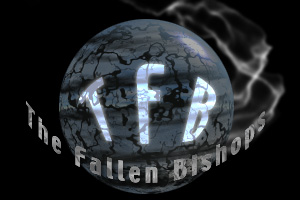 In case of accidental ingestion, consult a mortician.
Originally members of a now defunct Myth I clan, the bishops have been together since just before the release of Myth II.

2o-Eyed Foe: how's that for a bio?
Cypher: s00ks
Darby: it sucks, mb?
Samas: lame
JJ:
Elric: I'll write one for ya, foe!
Fresh: wiggles
Cypher: go mb?
D: we can't
D: taxi's afk
Threat Assessment:
The Fallen Bishops, or tfb, have the experience and smarts to give most teams a run for their money.

However, we find it highly unlikely that tfb will be heard from much later than DE2, due mostly to waining attendance and practice time.

TFB is the long shot of long shots to be our darkhorse team.

QR1: TFB proves that they are not a team to be taken lightly as they brilliantly shut down FF, taking no prisoners. OrangeKing apparently was wrong.
Update DE2: tfb had a descent QR going 3-2 and defeating all the teams they should have, which earned them a 26th seed in DE. Once in DE they faced a TC team which they disposed of pretty handily and showed that they can play and deserved a spot in MWC. Once in the final 32 though, DE2 didnt go so well. They earned a tough draw, Np. They played descent, but it wasnt enough to take down Np and got sent to the bottom bracket. tfb is capable of taking a few more match wins in the bottom bracket, but its highly unlikely they contend for the cup.
This team has received 136 top ten "votes".