The Jenova Project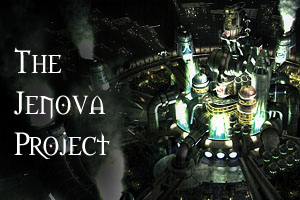 Trow in your keyboard, or Moogle in your bed? You decide.
The Jenova Project is making it's debut in MWC this year (after not being ready the first year and missing the registration deadline by a day the 2nd), under new leadership.

Being standing figures in the Myth community, and crusading against the evils of WW2, Raid and Ranked, The Jenova Project has made a name for themselves in the past (usually something like, "OMG DEY NUT PLEI WW2?!?!?!? DEY SUX!!!").

Competitiion is not unknown to FF and they compete to all of their might, but overall Myth is just a game to them and they have a lot of fun playing it!

If you are a freelance player, ordered or orderless, and wish to join an MWC team, consider The Jenova Project (rank h00rs and ww2 h00rs need not apply, thx).

If you'd like to join FF for MWC or have any questions about FF, send an e-mail to Gafgarion (FF's Leader) at: mantis_ant@hotmail.com
Threat Assessment:
The Jenova Project have not competed in any major team tournaments to date, so it will be interesting to see how they do under the pressure of MWC. They are a relatively active unranked clan, and while they are not a major threat, they will probably be able to take on some of the tournament's weaker teams.
A run to the DE is possible, but it may take some effort.
Update QR3
: Jenova really need to step up their efforts to stay in the game - though an unfortunate complication with the FF-
HD
match really puts a huge dent in their seed, Jenova seemed to struggle against the other teams in their bracket as well. A DE3 run is possible, if they really kick out all the stops and work for it. Downgraded to 2 trow until we see if they'll step up to the challenge.
This team has received 51 top ten "votes".