Madrigal Chamber of Commerce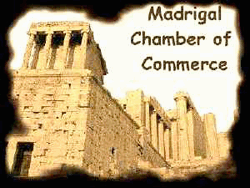 More standing buildings than any other city in the province!
MCC was founded in October of '98 from a renegade faction of the Warhammer Combat Clan. MCC has tourney experience dating back to the first MLM (competed in championship match), held in January of '99, and since then, entered in 2 previous Myth World Cups (finishing 13th and 33rd), MLM2 (made it to playoffs), and other tournies way too numerous to mention. (read: I don't like to type too much stuff in here). Often, when there are no other tournies running, we run our own inter and intra order tournies. Its members have been succesful in many ffa tournies as well, and a large number have fought their way into the top 100 ranks on b.net (when rank really meant something!). Well, depends on what you call large, really. To some, "large" might be "just a few". To others, "large" might mean cholesterol. Anyway, we could probably beat a team of 2nd graders on iMacs if we really tried.
Threat Assessment:
MCC has some strong individual players, but have never really been much of a threat together as a team. They had a reasonable run last MWC, but unless they've really stepped up their game, they won't make it too far in the DE.
Update DE2: MCC played great through the first 4 weeks of QR by winning all of their matches, then they faced a excellent Np team and got hammered. They then moved into the DE with a 21st seed and faced MetaC, which couldnt field enough players and forfieted. MCC moved onto the DE2 bracket to face Aesir. MCC played well and hung with Aesir throughout the match, but didnt have enough and got sent to the Winnowing bracket. MCC is capable of making a run in the bottom bracket, but we'll see how long they can last.
This team has received 51 top ten "votes".