The Regular Order of Fries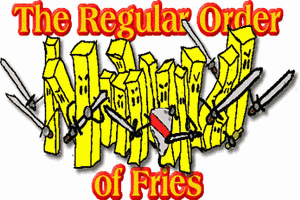 Cogito ergo spud - I think therefore I yam
The Regular Order of Fries is probably the oldest Myth order you've never heard of. We were originally founded, in the early days of Myth:TFL, by a misguided father and his twin teenage sons. You know, all that father son bonding stuff. Yeah right. Dad's still playing and the twin teenage sons are...are...honey where are the boys again? Anyway, even though the bonding thing went bust after awhile, the order itself flourished into a weekly meeting of marginal players from the fringes of the Myth community. We've spent the better part of the last three years playing amongst ourselves, drawn together by one guiding philosophy...that games were meant to be fun. Stab us, hack us, slash us, blow us up. We don't care, as long as we're having a good time. Kill us all you want, we'll just get up so you can kill us again.
Threat Assessment:
It's a good thing ROoF is looking to have fun, because their small roster could prove to be a major stumbling block on the road to winning. Perhaps the Orgasmic Hampsters will finally have some company in the "amazingly fun to play, but not quite enough to stand up to most teams" department. The again, ROoF may end up as one of the tougher small-roster teams. Look for an update following the first week of play.
Update DE2: RoOf didnt fair too well in the QR, not winning a single match, but did manage to earn a spot in the DE, ranked 58th. Unfortunately they drew 9boo in DE1. 9boo handily thrashed RoOf and sent them to the Winnowing bracket. Once in the bottom RoOf faced JB. RoOf wasnt prepared and got the door slammed in their face. RoOf tried hard in MWC but it wasnt hard enough. Gl to you in the future.
This team has received 32 top ten "votes".