Havin' a Blast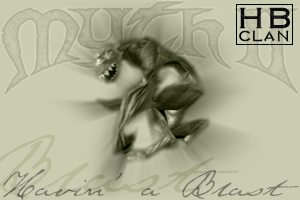 Its all about Havin' a Blast!
<center> <a href="http://www.HBclan.da.ru">www.HBclan.da.ru</a> </center>

Hmmm... well what's there to be said about this order? We enjoy playing the game whether we win or lose (yeah right that's bull).
I founded HB over a year ago in February 2000 and then went out searching for players to join. Took me a month before I found the first real member of HB, Gizmo. Ok, ok I only asked him to join the team coz i thought his name was cool, but he's proven to be the most loyal member to this group (and he's okay at playing the game too).
After many comings and goings of lame ass ppl, we think we finally have some skilled players, hopefully we can function as a team.
My individual plan of action for this tournie is to let my stronger teammates do all the work whilst I sit back and shout crazy things at the opposition.

-The Boogerman
Threat Assessment:
Sporting a decent sized roster, fairly unknown players, and a nice team pic, HB probably won't get very far in this tournament. If they get past QR, they are expected to relocate to the bottom bracket quickly and then be eliminated soon after.

We'll get an idea of how accurate this assessment is come the first QR match.

Update QR1: HB is soundly defeated by PoOp. A nice win on Cracks is not enough to make up for confusion over the strategy on Desert and a rather large blunder on Trow. If they can just tighten up their playing a little they could do better than expected.

Update QR3: DE2 will almost certainly be their demise. Possibly DE3 if they are lucky.
Update DE2: HB had a rough first 3 weeks in the QR, but then turned it around in the final two weeks by gaining a tie and a victory out of them. They entered the DE seeded 41st and their opponent would be BF. HB was all about having fun in this match and it showed. BF took them to school and sent them to the bottom bracket. Once in the bottom bracket they earned a forfiet win over PBH in the first match. They better step up this week though or its over, they face 9boo. Dont expect HB to win this match, but lets see how interesting they make it.
This team has received 36 top ten "votes".