The Cult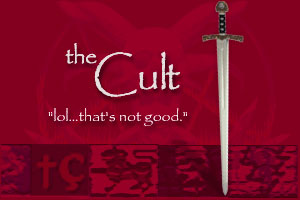 "Hey whats that? Oops is that my sword in your chest"
From "The Tome of The Cult"
May 15, 2001 Ò Camp of the Army of The Cult:

A cold mist settled on the rolling plains of Muirthemne, muffling the murmers of a great army encamped for the night. Glimpses of armor decorated with "TC" and sharpened swords of steel could be seen through the prairie grass as it danced in the breeze.

A lone bowman stood outside of the ring of campfires, watching the plains for any sign of life or death.

"Dear General, tis an evil and cold night, why donÌt you come back to camp, where you can warm your weary bones," whispered a young scribe walking toward the lone bowman.

"Perhaps I should, Erazor, but the night bodes ill with me," said CYA "N" HELL, General of The Cult, "Listen, and tell me what you hear."

Erazor stopped and cocked his head towards the plains. "I hear nothing, my lord, except the breeze rifling through the tall grass."

"Yes, my young captain, Nothing," CYA stared out into the night, "Not even the chirp of pheasants, the hoot of an owl, or the screach of a nighthawk. Even the Prairie Dogs have stopped their chatter."

Erazor began to search the plains with his ears, hoping to hear any sound, loud or soft. But there was nothing, except the swaying of the grass. "What does this mean, my lord. Surely this is a sign that nothing will come near our army."

"That could be, but what does your instincts tell you," CYA said as he picked up his bow.

"That something is on the prowl," Erazor said in alarm, "That something is gathering in the twilight."

"Exactly," CYA said as he lifted his bow, and fired an arrow into the darkness.

In the distance, a soft thud could be heard followed by the death scream of a ghol. "Awake, Army of The Cult, for the enemy is upon us," CYA yelled.

The gentle murmurs of a sleeping Army turned to the deadly clang of a War Host preparing for battle.

---------------------------------------------------
A Brief History of "The Cult" Ò Submitted by Erazor, Scribe of "The Cult"

Out of the ashes of battle came seven Defeated Heroes. Masters of the Bow, Sword and Puss, they seek to redeem themselves in the fields of Muirthemne.

CYA "N" Hell, Lord Squeak, Judas, Gallows Pole, Corpse, Grey and Fookilla have gathered a skilled and strong host of warriors to their flag. The Order they began has grown from 7 to 22 War Captains in less than a year. And they have been busy training their new army for battle.

According to the minstrels who sing the tales of "The Cult" to the peasants in Tallow, "The Cult" is an Order Reborn. Like a Phoenix, it grows and takes flight so it can destroy all enemies in its path.

CYA "N" Hell, Master of the Bow, and General of "The Cult," leads this band of warriors, whose goal is to prove their prowess in battle. He brings to battle:

Gallows Pole the Inquisitor
Corpse, Master of Ghols
Judas, Fallen Priest of the God of Wind
J P Morgan the Usurer
Trevelyan, Guardsman of Scales
Blood&Gore the Gladiator of Cath Bruig
Almighty Bob, Master of Explosives
Gundam, Warlock of Cath Bruig
Lord Squeak, Prince of the Eastern Star
Domic the Hunter of Forest Heart
Petricity, Marshall of Tallow
Spektr, Baron of the Marshlands
Sloth, Bezerker of the Plains
Errand Wolfe, Ranger of Forest Heart
Erazor, Scribe of "The Cult"

Grey, Fookilla, JTDotto, Paerlito, Visigoth & Saeldric have remained in Tallow to guard the lands from an enemy sneak attack.

May all enemies of "The Cult" take warning, for we come to win all battles and slay all foes. No quarter will be given & No surrender will be accepted. TO BATTLE.
Threat Assessment:
The Cult can often be found in unranked playing large team games against rabble. I've taken part in a number of these games, and from what I've seen, they have the potential to beat most of the mediocre teams.

This will only happen with a lot of practice, but their large roster will help them a great deal in this respect, so a good QR run and a few rounds of DE could very well be in their future.

Update DE 2: TC has shown that they are definitely superior to what their original TA implied. They recently fought a strong mi team to a standstill, ultimately losing due to matters outside their control. TC is not a team to be taken lightly, but they have a very hard bottom bracket run ahead of them with the loser of the gtm/syn matchup by DE 4. Has TC become that lovable underdog of mwc? We would like to hope so.

Update DE 3: tc played excellent last weekend by defeating creation and OMAG. This weekend however their run ended when they hit a wall by the name of syn. tc showed a great spirit and teamwork at times throughout mwc and they can only improve in future tournies.
This team has received 90 top ten "votes".



Contacts:
Erazor
CYA 'N HELL
Match Results
Team Statistics
Frequent Captains